Microsoft Flight Simulator – Standard Edition + Online Multiplayer
You will get a key for Activator, which will activate the game in your Windows 10 / 11 – The game will be completely functional – including online multiplayer playable on your profile. This is NOT hacked or illegal game. This is a legit activation.
Game works Online as well. You will be able to play the game from your own account / profile. All The game progress and other achievements are stored  in your account. This is Full Feature Game and we assure you this is not pirated or anything else.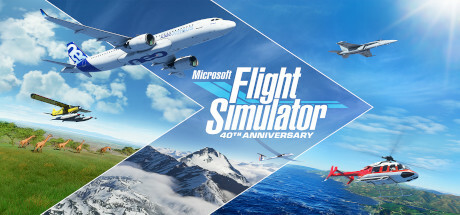 Microsoft Flight Simulator is a series of amateur flight simulator programs for Microsoft Windows operating systems, and earlier for MS-DOS and Classic Mac OS. It is one of the longest-running, best-known, and most comprehensive home flight simulator programs on the market. It was an early product in the Microsoft application portfolio and differed significantly from Microsoft's other software, which was largely business-oriented. At 39 years old, it is the longest-running software product line for Microsoft, predating Windows by three years. Microsoft Flight Simulator is one of the longest-running PC video game series of all time. Play Microsoft flight simulator for free after Activation
Technical Specification for Microsoft Flight Simulator
CPU: Intel Core i5-4460 or AMD Ryzen 3 1200 or better
RAM: 8 GB
OS: Windows 10 64-bit
VIDEO CARD: Radeon RX 570 or GeForce GTX 770 or better
FREE DISK SPACE: 150 GB
DEDICATED VIDEO RAM: 2048 MB
INSTRUCTIONS
Update Windows 10 // 11 to the latest release.
Make sure that your computer meets the minimum requirements of the game.
Make sure you have the Xbox app installed. Sign in to your Xbox account or create a new one.
If the application is not installed, install from the Microsoft Store
NOTE:
All achievements in the game are stored only on your account.
Automatic game updates.
Activation is only possible on PC with Windows 10 / Windows 11
This is not an activation code. Our Activator activates the game in your PC, after that you are able to play the game from your own Profile / Xbox account. (PC Only)
DISCLAIMER:
There will be no refunds like PC could not run the game due to some reasons, PC could not download the game due to less internet, game size too large.
No claims will be accepted in case you Don't like the game, you don't play it ,cannot play the game due to game bugs, etc.
Images:
Note: Our Method to activate / Provide this game to you is currently working good since 2017. But if Microsoft Patches the method, then no claims regarding refunds will be accepted in future. Thank you 🙂