Assassin's Creed Origin – Ubisoft – PC Games
Assassin's Creed Origin – Standard Edition – Ubisoft – PC Games
Original Account ✅
This Account May Contain 1 or More Assassin's Creed Series Games.
Simple activation, Login and Play the game in online / offline Mode ✅
No 3rd Party App Required, Login at your own comfort. ✅
Access to Complete game / Story mode ✅
Delivery On Your E-mail. ✅
1 Month Replacement Warranty. ✅
It will be customer's responsibility to make sure he/she understands how Steam client works and know the system requirements to run the game. There will be no refunds in case pc could not run the game due to game bugs, system errors and backend problems, etc. Please note that we don't provide future patches/support options.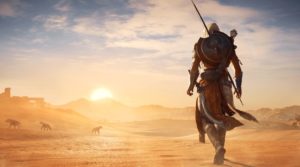 Standard Edition
Ancient Egypt, a land of majesty and intrigue, is disappearing in a ruthless fight for power. Unveil dark secrets and forgotten myths as you go back to the one founding moment: The Origins of the Assassin's Brotherhood.
A COUNTRY TO DISCOVER
Sail down the Nile, uncover the mysteries of the pyramids or fight your way against dangerous ancient factions and wild beasts as you explore this gigantic and unpredictable land.
EMBRACE ACTION-RPG
Experience a completely new way to fight. Loot and use dozens of weapons with different characteristics and rarities.